Storm produces customized flags with aluminum structure (Beachflag ALU) suitable for all uses. Beach flags are used in the most various sectors, from setting up events and exhibitions, to fairs, points of sale and promotional corners.
The customized flag is printed in digital sublimation without limits of colors or graphics and is packaged with a tunnel of elastic tape(white or black) for the insertion of the pole. The printed flag can be made on nautical flag fabric or mesh fabric.
| | |
| --- | --- |
| Nautico flag fabric | Mesh flag fabric |
The printed beach flags are customized not only in graphics but also in shape. You can choose between different flag formats and frame sizes. A lot of shape and size are available: standard beachflag, round beachflag, beachflag angle, beachflag wind. In the drop flagpole variant the following formats are available: beachflag wing, beach flag bow, beachflag drop. In the classic format for institutional flags with rectangular flagpoles, the format available is: beachflag rectangular.
| | | |
| --- | --- | --- |
| Beachflag ALU Wind | Beachflag ALU Standard | Beachflag ALU Round |
| Beachflag ALU Angle | Beachflag ALU Drop | Beachflag ALU Rectangular |
The customized beach flags ALU are made entirely of aluminum. The upper part is made with a pre-curved mast in order to support the flag avoiding breackage. The tubular structure is equipped with clip-lock sustem that guarantee maximum safety and speed in the assembly / disassembly of the structure. No keys are required for assembly, setting up the beach flag is quick and easy. Just connect the tubes together, insert the flag, and adjust the tension thanks to the mobile hook.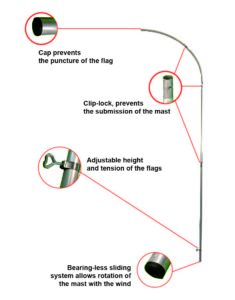 Different bases for customized beach flags ALU are available depending on the use and positioning of the flag. The beach flags can be used both indoors and outdoors. In case of wind the structure is free to rotate thanks to the lower damping system. The bases available are the following: ground spike, wheel base/car stand, floodable black base, cross base, water weight, flat steel plate.
| | | |
| --- | --- | --- |
| Crossbase Beachflag ALU | Ground spike Beachflag ALU | Floodable black base 30L Beachflag ALU |
| Flat steel base 6,5 Kg Beachflag ALU | Wheel base / car stand Beachflag ALU | Water weight Beachflag ALU |