Storm prints advertising banners made of non-woven fabric (also called TNT or nonwoven banner).
TNT is a fabric produced with technologies different from weaving and knitwear; it consists of a web of polyester fibers connected together thanks to mechanical, chemical and thermal processes. The typical use of this material is the creation of personalized advertising banners, personalized banners for events, banners for barriers.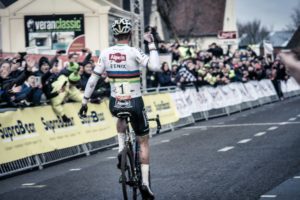 TNT rolls are the ideal solution for making cheap TNT banners for the setting up of sporting events, exhibitions, fairs or for promotional campaigns in points of sale. The TNT banners can be cut and packed individually, and can be applied eyelets. All banners are tailor mad in single pieces or on rolls. The standard heights for printing advertising banners are: 80 cm, 100 cm; 160 cm; 300 cm.
The TNT advertising banners are printed in digital sublimation without limits of images or colors. For productions of large quantities, with graphics with few colors, it may be convenient to evaluate a silk-screen printing of TNT banners instead of digital printing. On request, the advertising banners can be made in a fireproof version.